If you are planning a summer vacation, and one of your priorities is being able to enjoy beautiful beaches in the warm sun…then we have one destination for you: the Mediterranean.
This region, which encompasses many different countries, all of them surrounding the Mediterranean sea, is the perfect summer vacation, and the beaches are known worldwide for being some of the best. 
In fact, when in the Mediterranean, it's hard not to run into beaches that are known for being some of the best in the world, they are absolutely everywhere. From tourist hotspot beaches to hidden secret beaches that not many know about, you can find whatever it is you are looking for. 
But here is the problem, with so many beaches, which one do you go to? If you're planning your visit to the Mediterranean based on finding the best possible beach…where in the Mediterranean do you go? 
The truth is that we can't give you the name of the best Mediterranean beach, quite simply, because we can't choose one to be the best. There are so many on the same level of quality, that it's impossible to choose a winner!
Not to mention that personal preference comes into it, as someone's favorite beach won't be the same as someone else's. 
So instead of worrying about somehow deciding which Mediterranean beach is the best, we decided to compile a list with some of the top-tier best beaches in the Mediterranean, that make for strong contenders. That way, you can pick the one you are most drawn to for your visit, or you can plan a tour of them all! 
Let's get right into it! Here are some of the best Mediterranean beaches that we absolutely love: 
Cala Cap Roig, Costa Brava (Spain)
If you've done some basic research on the beaches of Spain, you will have likely heard of the Costa Brava, a coastal region just outside of Barcelona, known for beautiful beaches and strong waves.
This is where you will find Cala Cap Roig, a well-known beach close to Platja D'Aro (another famous beach you should visit). It combines rocky formations with soft golden sand, and it is complete with beautiful views. 
The beach is easy to access, and very popular, so it might get pretty crowded during the peak summer season. It has plenty of amenities, and there are plenty of restaurants and bars nearby, as well as a small cafe on the beach itself. Not to mention that there are lots of paths to explore around the beach, for those that are more adventurous! 
Cala Soraja in the Island of Spargi, Sardinia (Italy)
Not far off Sardinia, in Italy, you can find the small island of Spargi, and it is here where Cala Soraja is located. It is, without a doubt, one of the most beautiful beaches in the Mediterranean, and one we would absolutely recommend going to if you ever get the chance.
One of the best things about this beach is that it is rarely crowded, and is therefore quiet and peaceful. This is because the island is only reachable by boat, and is therefore somewhat of a hidden gem. 
The beach is small, with no facilities, so you will have to take whatever you need with you. The best time is early in the morning before the tourist boat excursions get there, but you might also want to stay there all day to make the most of it. White sand, clear blue water, and breathtaking views from a small remote corner of the Mediterranean, you can kinda see why it's on our list right? 
Costa Rei, Sardinia (Italy)
Located on the southeast coast of Sardinia, the Costa Rei beach is by far one of the best in the Mediterranean and has been named as much by the Lonely Planet. It is characterized by its white and fine sand, with a few rock formations here and there that break it up a little. Clear blue water, which gets gradually deeper, and incredible views all around. 
This beach is also very easy to access and perfect for families and children. It is fully serviced, with kiosks and places to eat and drink, and overall, it is perfect for relaxing and enjoying the summer vibes! And it's not hard to reach from Rome.
Jaz Beach, Montenegro
Located in Montenegro, Jaz Beach is incredibly beautiful and is known for having warmer and saltier water, compared to other parts of the Mediterranean. This makes it all the better for swimming, which is why it's so popular! It's a long beach, which can get pretty crowded during the summer. Especially because they put on many music events during July's Sea Dance Festival! 
We would recommend visiting this beach during May or September when it's less crowded so that you can better appreciate its beauty and peacefulness when not crowded. 
Kizkalesi, Turkey
Turkey is a place of unique beauty, and if you want to visit a beach that will provide you with a magical and otherworldly experience, we recommend Kizkalesi. Located on the southern coast, this is a relaxing beach full of magic, with a perfectly blue sea, lounge chairs, and soft sand.
But here's the best bit: there are two castles. Yes, castles. One of them is on the beach, so you literally go up to it and explore while you're there. And the other is right off the coast, so people can swim over to it from the beach, explore, and then swim back! 
How many beaches boast of having two castles, right? Just imagine swimming up to a castle! Not to mention that swimming is made easier by the larger amount of salt in the water, and there are very few waves, making it nice and calm. 
Oh, and there are plenty of snacks and drinks available, so you can stay there all day, and then watch the sunset over the castle, behind the horizon. Absolutely perfect.
Lucice Bay, Croatia
Located on the island of Brac, in Croatia, Lucice Bay is a beautiful beach that we absolutely recommend visiting, especially in the summer, the best time visit Croatia. The beach is quite secluded, so it doesn't tend to be too crowded, and you can reach it via a small road. That being said, the beach is notoriously perfect for access via yacht, and many people will sail to the beach from other places, to enjoy its quiet beauty. 
The crescent-shaped beach is full of soft sand and pretty rock formations, and clear turquoise water. There is also a hill, from which you can see the entire bay, and a small restaurant to keep you fed and watered for comfort! 
Playa Mojacar, Andalucia (Spain)
Spain is full of beautiful beaches, and a region you absolutely need to look out for in Andalucia, and specifically, the Coast of Almeria. This is where you will find the Playa Mojacar beach, which is renowned for its gold sand, running for 17km. The best part? It's not a crowded beach, as not many tourists are aware of it! 
With beautiful views, perfect water, and plenty of space to relax, this beach is just outside the village of Mojacar, which sits on a hill above it. There are plenty of restaurants and bars spread throughout the edge of the beach, for convenience and amenities, and we recommend you stay all day into the evening so that you can enjoy the beautiful sunset! 
Sa Calobra, Mallorca (Spain)
Mallorca is the biggest and most prominent of the Balearic Islands, off the coast of Spain. This island is a tourist hotspot, with plenty to do and see, and it is also known for its incredibly beautiful beaches. One of our favorites is the beach of Sa Calobra.
To get to this beach you have to go down a twisty narrow road, through the Tramuntana Mountains, and there are plenty of other more accessible beaches, but the reward for this one is worth it. Once there, the beach is an amphitheater of cliffs, with pebbles, soft sand, and the most beautiful crystal blue water. 
Honestly? This beach looks like a tiny piece of heaven. The downside is that it isn't easy to get to, and there are no amenities there, so make sure to take everything you need with you! The good side? Not as crowded as the rest of the popular beaches in Mallorca. 
Saleccia Beach, Corsica (France)
Hidden in a more remote part of northern Corsica, Saleccia beach is not the easiest to access and get to, but it is 100% worth the effort. It will take you several hours of walking through a desert landscape, down several dirt tracks, in order to get to this beach.
Or alternatively, you could get a taxi boat from Saint-Florent, which is a lot easier and faster. But once you get to this beach, you'll forget about the hassle, and be struck by its beauty. 
Pure white sand, calm crystal blue water, and fragrant shrubland in the surrounding area, it's one of the best beaches in France. This beach is a hidden gem of Mediterranean beauty, and despite being remote, it is incredibly popular amongst tourists and locals alike. That being said, if you want to visit it when it's not crowded, go outside of the summer months, when it is still warm enough to be enjoyed in peace!  
Ses Illetes Beach, Formentera (Spain)
Off the Northeast coast of Spain, you will find the Balearic Islands (four Spanish islands). The better-known island is Mallorca, a hotspot for tourists, but it is on the smaller island, Formentera, where you will find the beautiful beach of Ses Illetes.
This beach is a small piece of paradise that looks a lot like the Caribbean. Turquoise clear blue waters, and beautiful white sand, it is truly beautiful. 
The beach isn't huge, as it's a small island, but it is quite long, so even during peak season, you are able to find a quiet spot for yourself. It is surrounded by large sand dunes, and it is very close to the car park, making it very convenient. Just be warned that in Formentera nudism is very normal, so don't be shocked if people around you start getting naked! 
St. Peter's Pool, Malta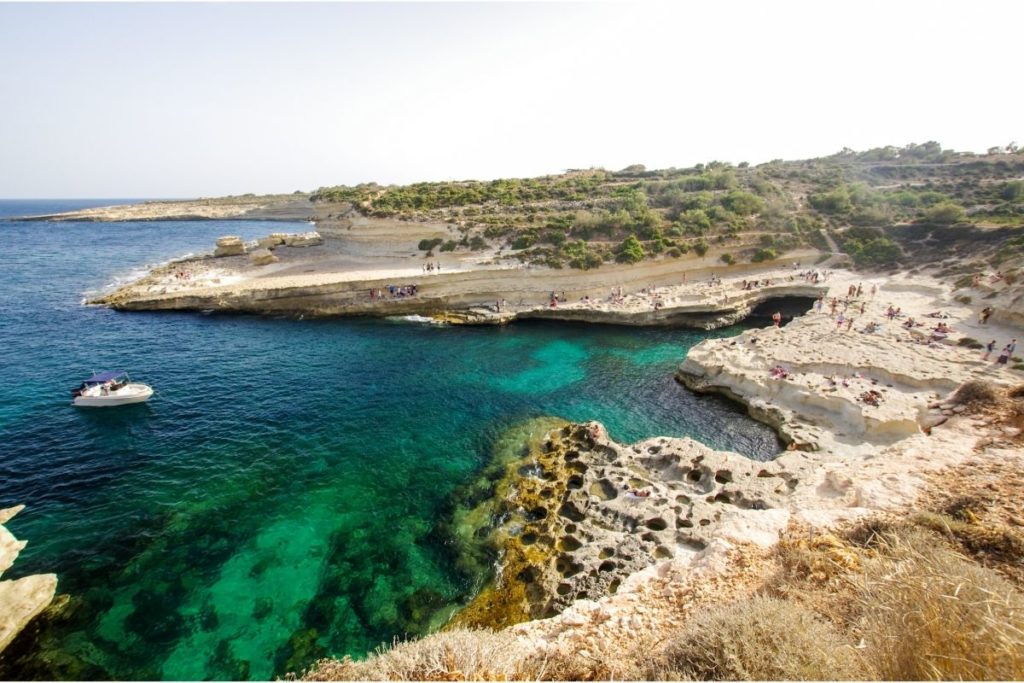 Malta is well-known for its beautiful beaches, and amongst them, you will find the beach of St. Peter's Pool, notorious for being loved by those that seek a more thrilling experience. Located, specifically, on the south side of Malta island, the beach forms a pool of crystal blue water surrounded by white chalk rocks.
The appearance is striking, and people come from all over the world to see it, so it can get pretty crowded! 
The best part about this beach is that you can jump into the pool of water for a quick dip, and then swim further out to enjoy the waves.
There are plenty of cliffs surrounding the area that are perfect for jumping into the water safely, not too high, but high enough to provide some adrenaline rushes. And if you don't like jumping off a cliff, then you can calmly enjoy the shallower pools of water, away from the main part of the beach. 
Stefanou Beach, Crete (Greece)
We can't talk about Mediterranean beaches without mentioning Stefanou Beach, located in Crete (Greece). Perfect for both sunbathing and swimming, this beach isn't too crowded, thanks to the zig-zag drive it takes to get there. By far, one of the best beaches in Crete, if not all of Greece.
It's a 15 minute walk from the car park to get to the actual beach, but it is incredibly beautiful, with white soft sand, turquoise water, and some cliffs for jumping! It's just one of those iconic beaches that simply have to be on the list, as it's incredibly beautiful and worthy of the ancient gods!
Tel Aviv, Israel 
Tel Aviv, in Israel, is a place known worldwide for its beaches, so we simply had to include it on our list! Stretching across the coast of Israel, Tel Aviv is an area with over six different beaches, all of them unique and beautiful in their own way.
In fact, every beach tends to have a different defining trait, so there is one commonly known as the tourist beach, one where you will find the locals, one for dogs to roam freely, one for surfers, one for conservative women…something for everyone. 
These beaches also have some of the best sunsets in the Mediterranean, and they are full of restaurants and amenities to make the experience more convenient and comfortable. Plus, the winters in Tel Aviv don't go under 50 degrees Fahrenheit, so you can enjoy them all year round! 
Summary of The Best Mediterranean Beaches
There are many other beautiful beaches in the Mediterranean that will absolutely take your breath away, but if we started to list them all we would never be finished, as the Mediterranean is a gold mine of infinite hidden gems! 
We hope that this list provides you with at least some beach inspiration, as they are some of the most popular and favorite, and are definitely worth visiting. Just remember to always look up the beach beforehand, for information on accessibility and amenities.