The South of France is known for its alluring coastlines and horizons that stretch over hundreds of miles. It's a hot spot to spend your summer, and it has all types of sexy beaches to choose from. 
Some of these beaches come with breathtaking cliff views, while others have adventurous coves—all of which will cater to adventurous beachgoers. France's coastline is also popular for its crisp, sandy feel and its crystal waters.
We've sold the beautiful French riviera beaches enough, now it's time to help limit your options with our list of ten best beaches in South of France.   
1. Plages du Prado, Marseilles
Plages du Prado is one of Marseilles' most charming beaches to be. Located in the south of Vieux Port, Prado is an enclosed paradise of warm, sandy beaches on the shoreline of the Mediterranean. 
Not only that, but Plages du Prado has a few, remarkable places where tourists spend most of their time. One of these landmarks you'll find on David's beach. It's a giant sculpture of Michelangelo that's surrounded by artistic cafes that capture the South of France's elegance.
Another tourist place to check out is Vieille Chapelle. It's a popular fishing spot that's located up Plages du Prado beach; you can get there on foot!
2. Plage de la Mala, Cap D'Ail
Cap D'Ail is a French coastline made up of three beaches. The most popular of them is the Plage de la Mala, named as such due to its proximity to Cap Mala. This made it a popular diving spot for adventurous tourists. Additionally, this beach is in a secluded area for visitors who prefer peace and quiet.
Perhaps Plage de la Mala is more famous for being awarded the Blue Flag too. This label is given to safe beaches that care about the environment and offer their visitors closed bathroom spaces, in addition to having lifeguards and first aid kits on hand for optimal safety.
3. Plage des Marinières, Nice
Plage des Marinières has been awarded the most wonderful beach in the South of France several times. It continues to annually win the Blue Flag for its beauty and organization. 
As an added plus, Plage des Marinières faces the westside, which means you'll get to see beautiful French sunsets every day. The texture of its sands is velvety and soft, making it perfect for all the family. 
You can visit the remains of an old town at Plage des Marinières too. It's a simple village with many hidden treasures and breathtaking art pieces, so why not book a walking tour to visit there?
4. Tahiti Beach, Saint Tropez
Saint Tropez is a bigger, more enclosed version of Nice beaches. Its sandy shorelines are fully surrounded by palm trees that give it an earthy look. 
Tahiti, one of Saint Tropez's most popular beaches, dominates a great area of the Mediterranean sea and is sectioned into private, lounging areas where you can spend your day tanning in the French sun.
The Tahiti waters are clear, shallow, and perfect for all the family. What makes Tahiti beach a hot spot is the endless sunshine along with the multiple restaurants and bars you can check out.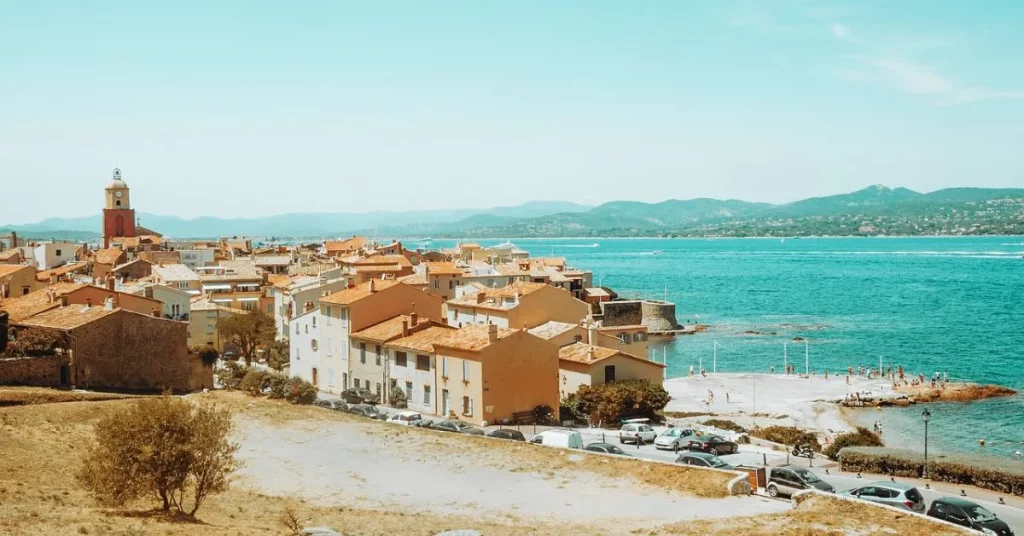 5. Île Sainte-Marguerite, Cannes
Cannes is known for its aesthetic beaches and crystal blue waters. The land is overshadowed with pine and eucalyptus trees, making its shorelines visually appealing. 
Île Sainte-Marguerite beach is one of the two largest islands located in Cannes. It's positioned where the shallow Mediterranean sea is at a mild temperature and is perfect for swimming. 
Along the way to Sainte-Marguerite beach, you can feast your eyes on green landscapes and multiple hiking trails.
These Cannes islands are covered with ancient, touristic monuments that you can stop and admire. Most famously among them is Fort Royal, an old prison-turned museum.
6. Plage de la Paloma, Cap Ferrat
Plage de la Paloma is a quiet, wonderful beach located to the west of Cape Ferrat. It's an organized beach with comfy sunbeds spread out across its narrow sands. 
The Mediterranean coastline is full of shops where you can rent diving, sailing, paddle-boarding, and skiing equipment.
Additionally, Plage de la Paloma is also famous for its natural, rocky coves, since its land is nestled between Saint-Jean and Cap Ferrat. This makes the place the perfect, private getaway. 
No wonder then that the beach is popular with celebrities! Plage de la Paloma is lined with many magnificent villas that date back to WWI and which A-listers love to rent out on holidays.
7. Plage de Portissol, Sanary Sur Mer
Sanary Sur Mer is a harbor located off the Mediterranean shore. Underneath it and surrounding it is the wonderful, sandy beach of Plage de Portissol. The place has everything from various amenities to hiking trails.
Luckily, too, Plage de Portissol's waters aren't too deep, meaning it's a family-friendly beach where your kids can safely play in the sea. 
Near the beach is Toulon island where there's a trail that we'll take you through nature's rocks and pebbles. Posidonia, a beautiful kind of seagrass, can be spotted along the way too.  
8. Les Issambres, Saint Tropez
Another popular destination just off Saint Tropez coastline is the enchanting beach of Les Issambres. It spreads over five miles of golden sands and its popularity is due to its secluded beauty. 
As an added plus, Les Issambres is closely located on the wooded hills of the Massif des Maures. There, you'll get to experience the history of Southern France and maybe go horse riding!
9. Palombaggia Beach, Corsica
Corsica is a large, Mediterranean island occupied with various green areas and rock-climbing slopes. It's home to Palombaggia beach, one of the most beautiful, white-sanded beaches on the French riviera.
Add to that, Palombaggia Beach is located at the far south end of France, marking the place as a perfect midpoint between Africa's Saharan wind and the Mediterranean waters. 
Because of that, the water is shallow with almost no high tides or waves. This makes it a perfect vacation spot for families. The woods will provide you with enough shade and places to explore too. 
10. Plage de l'Ouille, Collioure
Plage de l'Ouille is last on the list because it's one of France's hidden gems, but also the hardest to reach. 
Its white, soft sand and clear waters will make the 20-minute hike to get there worth it, though. In the end, you'll be rewarded by staying at a beach that's privately nestled at the foot of the Pyrenees.
Across from Plage de l'Ouille, stands Collioure's Catalonian harbor. There, you get to spot fancy boats coming in and out. You'll also see Fort Carré, an incredible-looking fortress that was built in the 18th century. 
Final Thoughts
The best beaches in the South of France are great summer vacation options for those looking to witness the country's alluring charm at its finest. The beautiful French riviera beaches are sure to take anyone's breath away.
Our top ten French beaches will all guarantee an unforgettable summertime experience. We do recommend, however, picking Les Issambres beach as your first choice. It's the most popular option on the list. Not just because of its colorful sands, but also because it has many touristic places you can explore with your family.